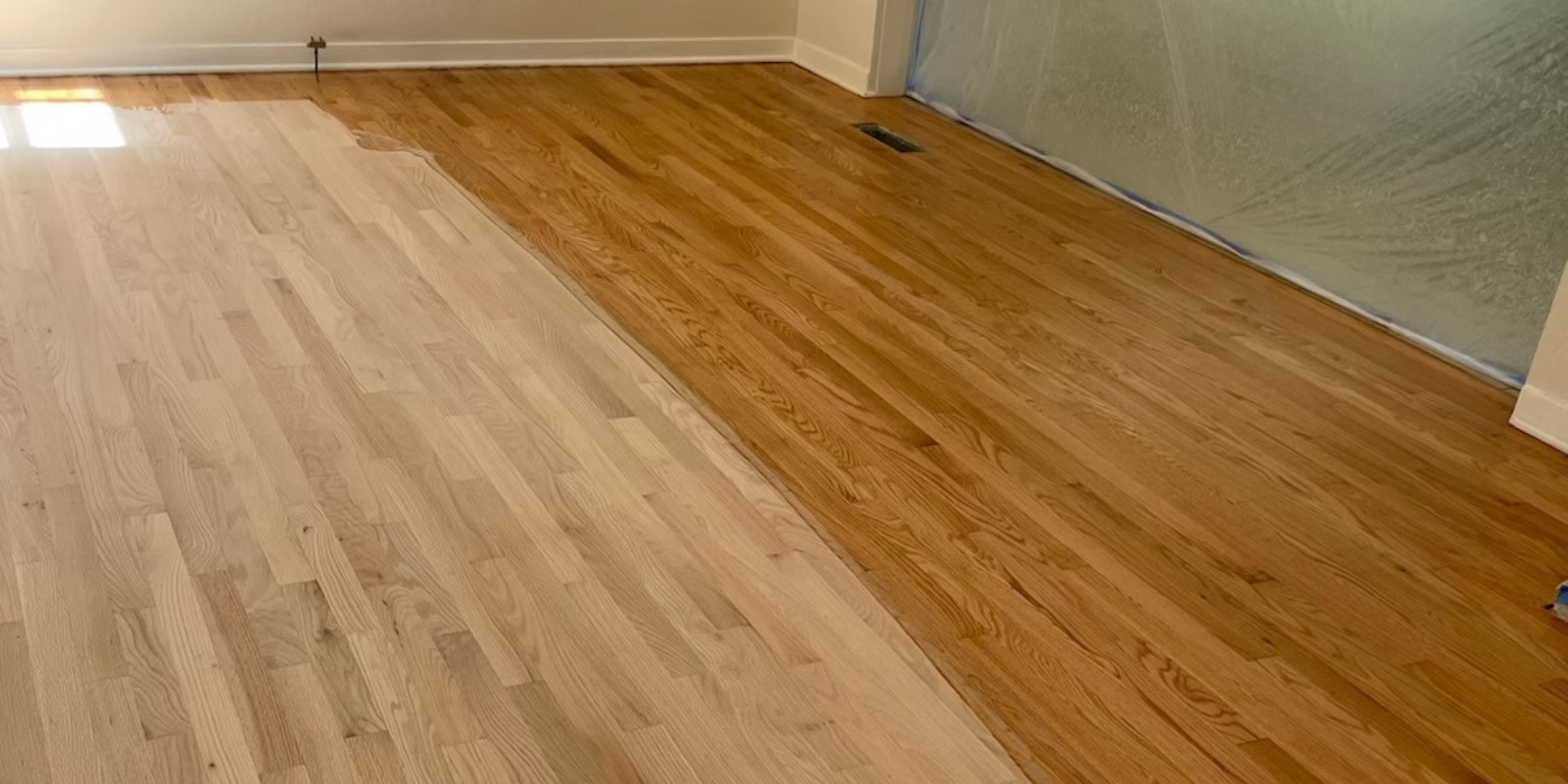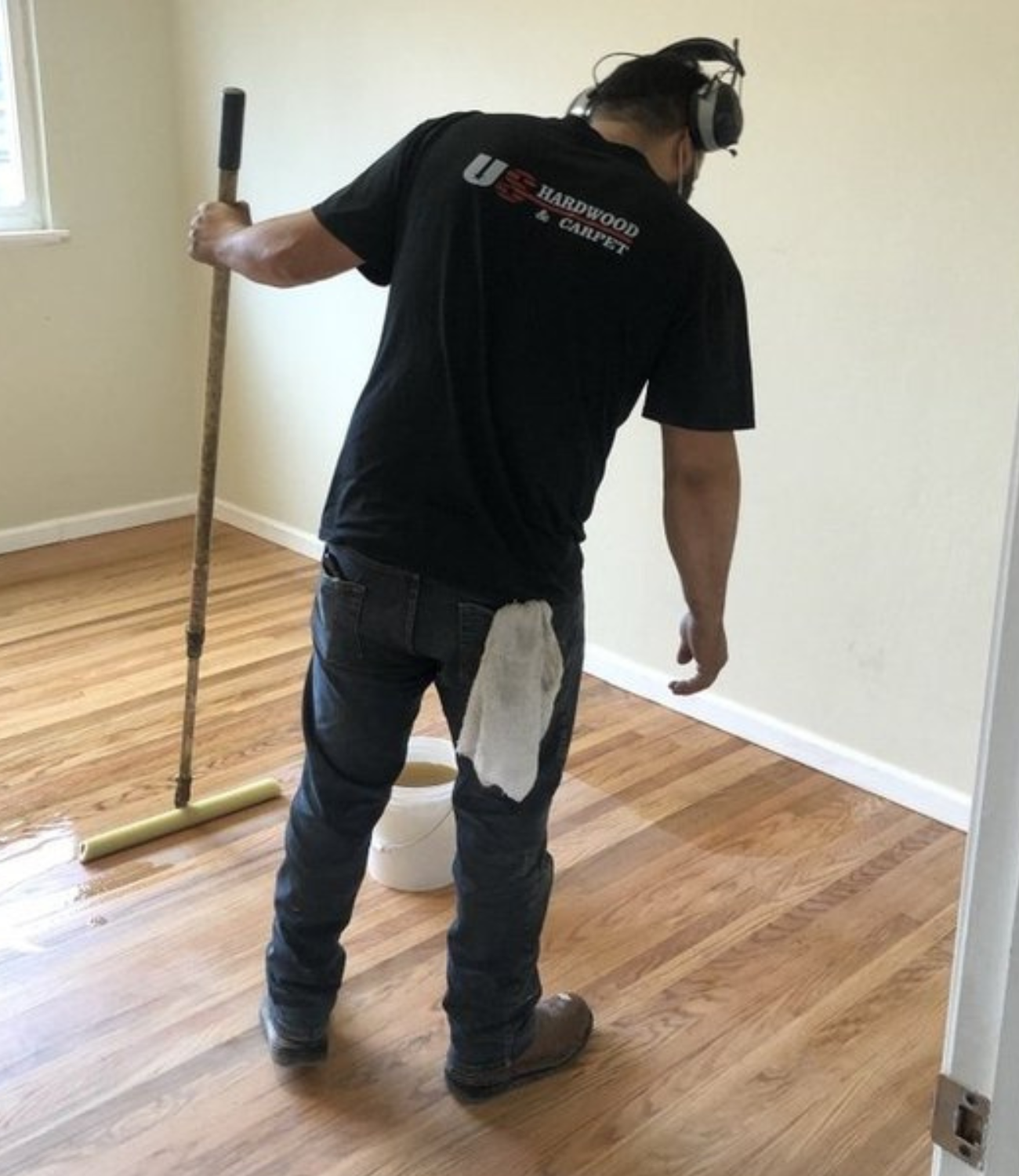 What is the process of
Refinishing & Repairing Flooring
Book Now!
Contact our flooring company to schedule an appointment with one of our experienced technicians. We'll ask you a few questions to understand the scope of your project and set up a convenient time for our technician to visit your home and assess your flooring.
Our technician will assess the condition of your flooring, identify any areas that need repairs, and provide you with a detailed estimate of the cost and timeline for refinishing or repairing your floors. We'll answer any questions you have about the process and help you choose the best options for your home.
Once you've accepted our estimate, we'll work with you to prepare your home for the refinishing or repair process. This may include moving furniture, removing carpets or rugs, and taking steps to protect your walls and other surfaces from dust and debris.
We'll schedule a day for our technicians to start work on your flooring. Depending on the size of your project, this may take anywhere from one to several days to complete. We'll work with you to find a time that's convenient for you and minimizes disruption to your daily routine.
Refinish/Repair your flooring

Our skilled technicians will use the latest equipment and techniques to refinish or repair your hardwood floors. We'll sand away any damage, apply a new finish, and buff your floors to a beautiful shine. If we're repairing your flooring, we'll replace any damaged boards and ensure that your floors look seamless and beautiful.
Flooring Refinish & Repairs FAQ
When should I consider refinishing my hardwood floors?

You should consider refinishing your hardwood floors when they look dull or scratched, have stains, or show signs of wear. Refinishing can restore the shine and beauty of your floors and protect them from further damage.
Can I refinish my engineered hardwood floors?

: It depends on the thickness of the engineered hardwood layer. Most engineered hardwood floors can be refinished at least once, but the thickness of the top layer determines how many times it can be refinished. A professional flooring contractor can help you determine whether your engineered hardwood floors can be refinished.
Can I repair my laminate floors?

Laminate floors cannot be repaired easily, and in most cases, it's better to replace the damaged planks. If you have spare planks from the original installation, you can use them to replace the damaged ones. If not, you may need to purchase new planks that match the color and style of your existing flooring.
Can I repair my vinyl floors?

Vinyl floors can be repaired if the damage is not extensive. Small tears, scratches, and gouges can be repaired with vinyl patching material or vinyl repair kits. If the damage is extensive, it's best to replace the damaged planks.
Can I repair my hardwood floors myself?

Repairing hardwood floors requires skill and experience. Unless you have experience working with hardwood floors, it's best to leave the repairs to a professional flooring contractor. Attempting to repair your floors yourself can lead to further damage and end up costing you more in the long run.
How long does it take to refinish hardwood floors?

The time it takes to refinish hardwood floors depends on several factors, including the size of the room, the type of wood, and the extent of the damage. On average, it takes about 3-5 days to refinish hardwood floors, including sanding, staining, and sealing.
Can I walk on my floors immediately after they've been refinished?

No, you should wait at least 24 hours before walking on your newly refinished floors. You should also avoid placing any furniture or rugs on the floors for at least 72 hours. This allows the finish to dry completely and ensures the best results.
Average Estimate Wait Time: Less Than 1 Hour
Get An Estimate Now!
Flooring Repair & Refinishing Review
View All Reviews

Flooring Repair
It is a pleasure to write a reference for US Hardwood and carpet.  The project started with a reconstruction after a leak in the kitchen which led to mold remediation by the insurance.  US Hardwood and Carpet is one of several companies we interviewed for the project.  We reached out to US Hardwood and Carpet for the hardwood floor reconstruction.  Alexis Bustos (Manager) came to review the project and to develop a quote.  Alexis was very thorough in his evaluation and is very detail oriented.  (His attention to every detail even as he was preparing the quote stood out uniquely among all the quotations we received at the preliminary stage.  This was the overwhelming reason for us to choose US Hardwood and Carpet.  Moreover, Alexis's quotation was one of the best (not only in cost but also in the work schedule).  We also needed carpentry, drywall work, plumbing and countertop work to accompany the floor repair.  Alexis gave us great references for those as well.  In addition, we hired him to coordinate the whole project.  As the project began, we included installation of handrails in our steps and carpeting of the 2nd floor.   Alexis did a phenomenal job in overseeing everything.  He was at the site almost every day (many times both at the beginning and the end of the day) to review the progress and adjust the schedule / workers as an when needed.  He is extremely friendly and gave us many options (and associated costs) to choose from at every stage.  At the end of every stage, the site was cleaned, and the furniture moved back in place.  We give them 5 stars with no reservation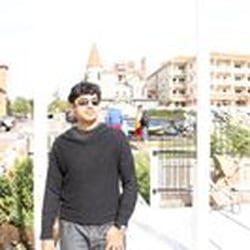 Hardwood Refinish
Alexis did an awesome job refinishing our hardwood floors and also helped us find contractors for other unrelated projects when we ran into scheduling issues. They are also one of the very few companies in this field that accept online debit/credit card payments and it was super convenient! I would highly recommend them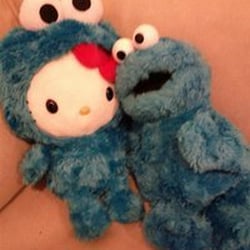 Flooring Repairs
This review is for Alexis at US Hardwood and Carpet who helped us navigate a pretty sticky situation. Our first installation of engineered wood went flawlessly however upon moving in, the floor that we had installed was splintering like crazy. It was pretty significant and not just on the knots of the wood, it was almost 60% of the seams were splintering. We have a small toddler and were extremely concerned with our new floors having this issue. He did in fact get a splinter at one point and his pants were ripped when he was crawling around.
We immediately contacted Alexis about the wood. He took the time to visit our home multiple times and in his assessment, there was a manufacturing error with the wood. He went above and beyond helping us contact the manufacturer to get the floor replaced. In the end, even though we went through some unfortunate things, we were extremely happy with US Hardwood and Carpet, and especially Alexis..