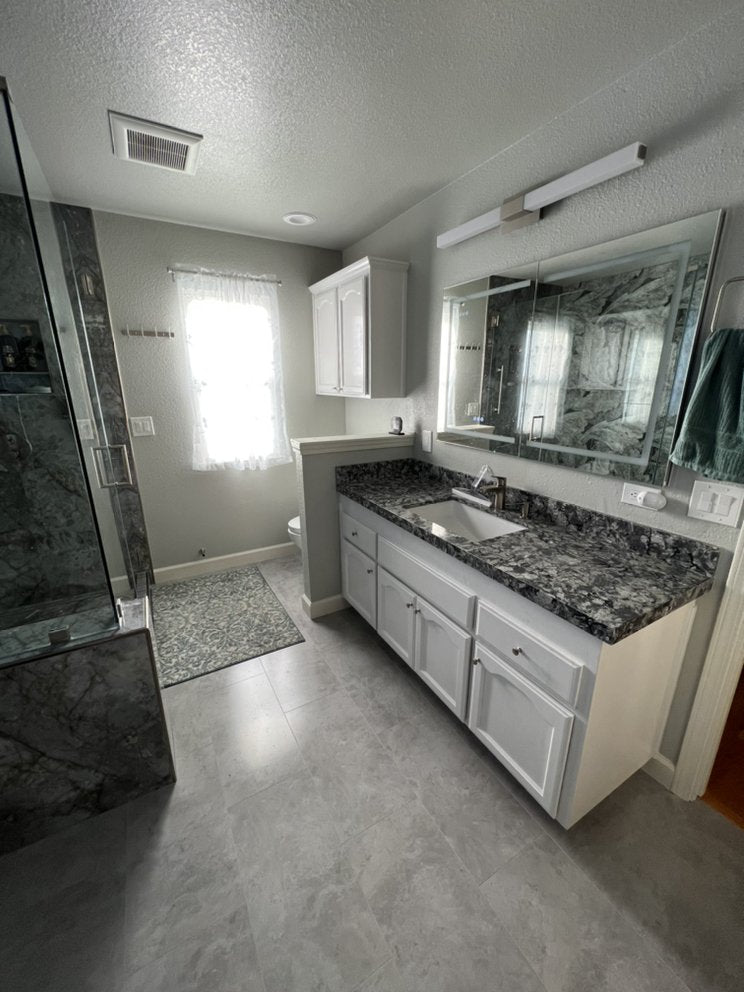 What Is The Process Of
Bathroom Remodel
Our goal is to make remodeling your bathroom the easiest, quickest, & smoothest process. Remodeling your bathroom can be overwhelming, but our job is to take care of all of it for you!
How do I begin planning my bathroom remodeling project?

Our bathroom remodeling team will start by helping you identify needs, priorties, budgets, and preferences. For the best pricing and planning setup a free in-person consultation.
What's the secret to selecting the ideal bathroom tiles?

Choose tiles that align with your desired style and functionality. Opt for materials like porcelain or ceramic for durability and explore colors and patterns that enhance your bathroom's aesthetic.
Which countertop material is best suited for bathroom vanities?

Granite countertops offer a perfect blend of elegance and resilience for bathroom vanities. Their durability and natural beauty make them an ideal choice to elevate your bathroom's appeal.
What's the typical timeline for a bathroom remodeling project?

Our comprehensive bathroom remodels usually take between 4 to 8 weeks, depending on project complexity and any unforeseen factors. Rest assured, we work efficiently to bring your vision to life promptly.
Can you guide me through the steps of a bathroom remodeling process?

Absolutely. Our process covers every aspect: meticulous design and planning, seamless demolition, precise plumbing and electrical work, flawless tile installation, elegant fixture placement, and the final touches that make your bathroom shine.
How can I manage my budget effectively during a bathroom remodel?

Maintain your budget by setting clear financial boundaries from the start. We provide transparent quotes, accommodating unforeseen expenses, while prioritizing essential upgrades and quality craftsmanship.
What factors should I consider when upgrading bathroom fixtures?

Opt for fixtures that match your style and needs while prioritizing water efficiency. Our experts recommend reliable brands known for durability and aesthetics, ensuring a cohesive and functional bathroom space.
How can I maximize storage during my bathroom renovation?

Discover innovative storage solutions with vanity cabinets featuring smart compartments. Explore wall-mounted shelves and niches to optimize space and keep your bathroom organized.
What's the ideal bathroom flooring for a harmonious blend of style and endurance?

Choose flooring that's water-resistant, easy to clean, and visually appealing. Our range of tile, vinyl, and waterproof laminate options strike the perfect balance between aesthetics and functionality.
Testimonials
More Reviews
Kitchen Island Install
The US Hardwood and Carpet team helped us to demo our existing tile and carpet + install new tile and LVP for 3,000+ sq ft home. Everything was done really well including upgrading our baseboards across the entire home.

There were priced competitively and significantly
cheaper than large retail flooring companies.

They also did a great job with working around the kitchen island and added the required stair nose to give the staircase a great finish with LVP.

If you're looking for a flexible and easy to work with company, I'd highly recommend you check them out!
Alexis pays close attention to detail. He made sure that I was nothing less than 100% happy with my new floors and baseboards. I was very impressed with his professionalism and communication. Every question or concern I had, he made sure to address ASAP. I highly recommend going with US Hardwood & Carpet for all of your flooring needs!!

Today was my first visit to US Hardwood and Carpet. I called a head of time looking for a specific in stock item and he had it!! He took the time to check for me and even set the item aside. When I arrived he had a box of flooring and an invoice prepared. Rex went above and beyond the standards of customer service to make sure I had what I was looking for. Not only was he super helpful, kind and knowledgeable, he even took the time to carry my boxes of flooring and out then nicely with care in my car!! Thank you!
Bathroom Remodel
Bay Area & Central Valley